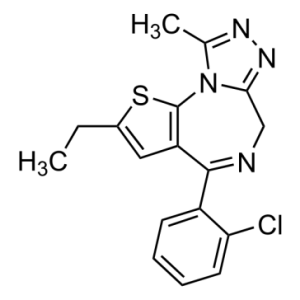 The molecular formula of etizolam significantly differs from the benzodiazepines in the benzene ring was replaced by a thiophene ring and the triazole rings were fused, which makes the drug A thienotriazolodiazepine. Etizolam is freely sold in Italy, India and Japan as a legal medicine, but recreational use is common.
| | |
| --- | --- |
| Synonyms | Etizolam |
| IUPAC | 7-(2-Chlorophenyl)-4-ethyl-13-methyl-3-thia-1,8,11,12-tetraazatricyclo[8.3.0.02,6] trideca-2(6),4,7,10,12-pentaene |
| Formula | C17H15ClN4S |
| Molecular weight | 342.07 |
| CAS | 40054-69-1 |
| Appearance | white powder |
| Purity | > 99 % |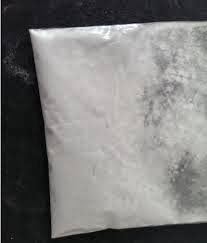 Moreover, as a drug it is easy to get online. This tranquilizer is a short-acting class thienodiazepine psychoactive drug that has been shown to produce depressants, anxiolytic, sedative, hypnotic, muscle relaxant, anticonvulsant, amnesia and depressant effects. Comparatively: 1 mg of etizolam is equivalent to 10 mg of diazepam, which indicates its strong effect on the body.
This compound is usually not prescribed and is not a controlled substance Recognized in many parts of the world, which has led to an increase in STIs in popularity as a product of many chemical research suppliers.
Etizolam is a structural relative of benzodiazepines, resulting in the benzene ring being replaced by a thiophene ring classifying it as thienodiazepine. Thiophene five member is an aromatic ring with one sulfur atom. Etizolam contains a thiophene ring condensed with a diazepine ring which is a seven member ring with two nitrogen constituents placed in R1 and R4. It forms the core of thienodiazepine etizolam. The ethyl chain is linked to this bicyclic structure on R7. In addition, the R2 fluoro substituted phenyl ring binds to this structure in R5. Etizolam alsocontains the methylated triazole ring fused and the inclusion of R1 and R2 of its diazepine ring. Etizolam shares this fused triazole replacement ring with a certainement of benzodiazepine drugs, called triazolobenzodiazepines, differ by the suffix "-zolam".
Etizolam and all other pharmaceutical products and research chemicals sold on this website are for research and legal applications.
Storage conditions: in a cool and dry place. The terms Etizolam, can last up to 2 years under the right storage conditions.
Price:
We would like to draw your attention to the fact that before you place an order on our website, we checked the legality of the necessary chemicals. The list of permitted chemicals you should know in your country. We did not send orders to Russia, Belarus, Hong Kong, Singapore. We would like you not to order prohibited chemicals in your country.
By purchasing chemical studies on chemperfect.com you buy a chemical at a wholesale price and get a discount coupon on subsequent purchases on our website.